President Biden recently signed the Respect for Marriage Act codifying into law protections for both same- sex and interracial couples. Here's a look at what took place.
The Road to Signing
The need to put this Act to paper became increasingly important after the Supreme Court voted to overturn Roe v. Wade. Many people in marginalized communities were feeling worried and unsure about what that would mean for them. The Biden Administration quickly rushed to codify protections for the LGBTQ+ community as well as individuals who have interracial marriages.
This Act does not guarantee anyone the right to marry. However, it does offer protection across state lines for anyone who is married. Each state must acknowledge a legitimate marriage whether that particular marriage is legal within their borders or not. It also guarantees that same-sex married couples have the same federal benefits as heterosexual married couples.
Same- sex couples unfortunately still aren't out of the woods yet. If the Supreme Court decided to overturn Obergefell v. Hodges, states that oppose same-sex marriage could outlaw it, as anti-abortion states are doing after this summer's ruling.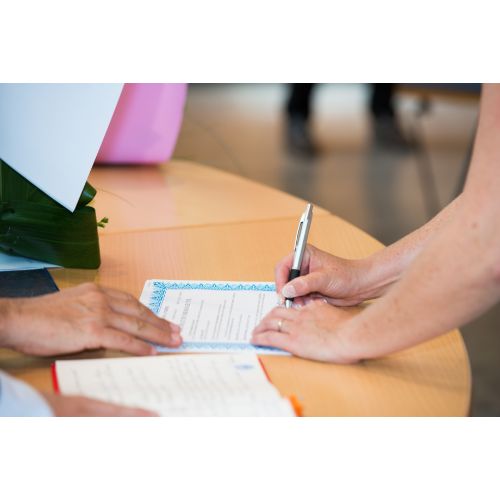 Setting the Scene
What was this historic day like? An article written by Emma Kinery for cnbc.com explains, "The signing took place in a large ceremony with thousands of attendees on the White House South Lawn. Several plaintiffs of LGBTQ rights legal cases stood on the steps behind Biden as he spoke. Biden was joined by first lady Jill Biden, Vice President Kamala Harris and second gentleman Doug Emhoff. Senate Majority Leader Chuck Schumer, D-N.Y., and House Speaker Nancy Pelosi, D-Calif., spoke before Biden, and artists Sam Smith and Cindy Lauper performed."
This bill was also passed by a bipartisan effort joined by 12 Republican senators as well as 39 members of the GOP in the House of Representatives. It passed 258-169. Additionally, it passed in the Senate a week before in a 61- 36 vote.
Other Factors
In his speech, President Biden touched on the unfortunate circumstances that led to the push for this Act. As previously mentioned, he stated that these new protections were vital because of the overturning of Roe v. Wade by the Supreme Court this past summer. One of the reasons this piece of legislation is so important is that it reaffirms a 1965 ruling in which the Supreme Court said married couples have the right to obtain contraceptives. It's one step the government can take to help women and couples maintain the right to choose whether or not they want to grow their family. At a time where many women feel their reproductive rights have been stripped away, it's a small comfort to have extra protection written into law.
While the Respect for Marriage Act isn't perfect, it's certainly a step in the right direction. The Biden Administration has managed to salvage protections for marginalized communities during a time of great uncertainty. This will hopefully be a stepping stone for further protections in the future.