The social part of working in an office can get complicated, especially around birthdays and holidays. Finding a not too generic gift shows that you know what they will like, but not too overboard since you may have multiple people you want to give presents to. The balance can be challenging. Try some of these great ideas to get you started.
Clock Fan
Those into techy stuff will love the clock fan. When you are working at your desk, sometimes what you need is a little airflow. Desk space can be limited, and we don't want it to become too cluttered. A clock and fan in one is a perfect use of space. It plugs right into your computer or with an adapter into the wall. When the blades of the fan spin, LED lights show the time. Amazon has deals that can bring the price under twenty dollars for their USB LED Clock Fan.
Infuze
Infuze is an excellent gift for those trying to live a little healthier life. It may look like a standard water bottle, but it has a feature to add the perfect amount of flavor. Unlike other infuse bottles, the lid lets you regulate how much flavor you are getting. You can get just a hint of flavor or get a lot of extra flavors whatever mood you are in. Those gaining this gift will know you care. It is also eco-friendly and will help them consume more water every day.
Gift Cards
The most painless gift to give is a gift card. You can pick them up almost anywhere, and your shopping is finished. With so many options, you will find one for everyone. Instead of getting generic gift cards, select a gift card to specific places for those coworkers that you know well. It will mean more and show that you truly know them.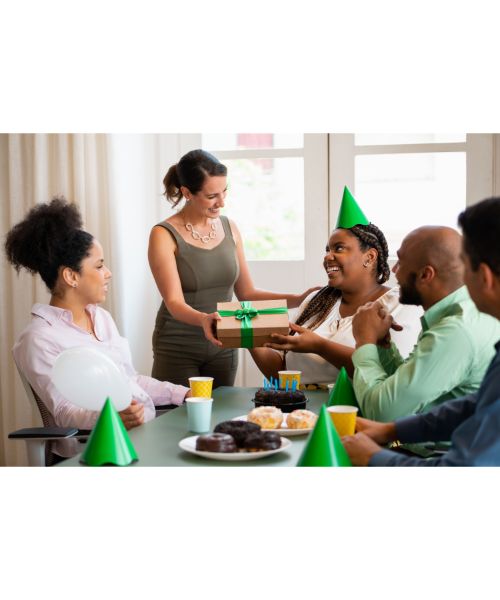 Treats
Treats are an easy go-to gift that anyone and everyone will appreciate. Buy cute snacks prepackaged and ready to go, or try your hand to make some delicious treats. Make sure to find out and avoid any allergies. A way to step up giving treats is to find unique containers that could be used again. There are many different styles of jars you could use, like these Weck Wood Lid jars from Williams Sonoma, a gift that will taste and look good.
Reusable Bags
Reusable bags sound like a boring gift. You can pick them up for a dollar at any store while checking out. Earthwise is taking reusable bags to the next level. They have bags that you will want to be seen with. Find the perfect one for each person in the office. There is one for the sports guru with his favorite team on it. And there is one for the lover of the farmer's market. This is a gift they can use over and over, and always think of the thoughtful friend who gave it to them.