As the 2020 election looms, Presidential campaigns are in full swing. As we hear from each candidate and listen to the news, their plans for the country are sometimes buried. To avoid any confusion, here's a rundown of the Biden/Harris platform.
Supporting the Disabled
According to his campaign website, "Biden will work with the disability community to build a stronger, more expansive middle class so that everyone—regardless of race, gender, religion, sexual orientation, or disability—can find a place. That means amending our laws, policies, and culture to ensure full inclusion of the 61 million individuals with disabilities in the United States in all parts of our society."
Opioid Crisis/Healthcare
With opioid addiction on the rise, Biden has pledged to combat this epidemic by giving Americans access to high quality healthcare. This includes expanding what insurers will pay for to include substance abuse treatment as well as mental health services.
Affordable Education
Biden plans to invest in community colleges in order to provide up to two free years of higher education. This will help the debt to income ratio for college students to be manageable upon graduation. He hopes that in doing this, more Americans will be able to purchase homes and reinvest money back into their communities.
LGBTQIA+
With Biden as president, he will repeal the current policies put into place by the current president. Including but not limited to the blocking of transgender individuals from serving in the military and and re-establishing healthcare for the LGBTQIA+ community.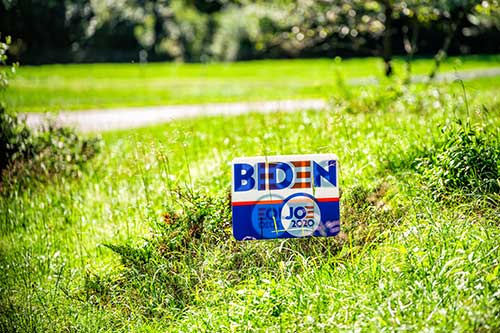 Improved Race Equity
As racial issues continue to dominate the news, Biden has stated his commitment to ensuring workers of color are compensated fairly and treated with dignity. Additionally, he plans to promote leadership and diversity in key positions across all federal agencies.
Immigration Reform
Biden considers the detention of immigrants and the separation of families to be a moral failure. He would seek to reform immigration laws and practices.
Gun Reform
Biden plans to take on the NRA to increase regulations for firearms. This includes holding gun manufacturers accountable, removing assault weapons from the streets and requiring background checks for all gun sales to name a few.
Clean Energy
Biden believes the environment and economy are connected. He will establish drastic changes to implement a 'Clean Energy Revolution'. Among other things, he has stated his desire to go after those who disproportionately pollute low income areas.
Made in America
This administration would focus on creating both manufacturing jobs and products in the United States. Biden doesn't believe that the innovation and industrial age of America has passed. He seeks to restart and stimulate the economy using this strategy.
Caregiving
The Covid-19 pandemic has made it abundantly clear that the working class needs support when it comes to caring for loved ones. Biden has expressed his plan to provide affordable options for daycare, respite care and care for the elderly.
If you'd like to read more regarding the Democratic nominee's platform, you can visit their website by clicking here.