No one could have anticipated a massive global pandemic overlapping into election season. While some states have made the decision to postpone their primary elections, there are a few who have decided to move forward. As our country navigates Covid-19, here are a couple ways states are attempting to execute their regularly scheduled elections .
Nebraska
Covid-19 has changed the way the majority of people are voting. While there are still some in person locations to vote, most people are sending in ballots by mail. According to an article written for aljazeera.com, "Polling places in the state capital of Omaha appeared largely quiet, in part because of the huge number of absentee ballots mailed into election offices. Officials had encouraged people to vote by mail, though Republican Governor Pete Ricketts and Secretary of State Bob Evnen both pledged to forge ahead with an in-person primary even though many other states have rescheduled theirs or switched to all-mail voting."
Wisconsin
While this particular election was predictable, (Bernie Sanders dropped out of the race the night before leaving one Democratic nominee), it did yield some interesting statistics. An article written by Nathaniel Rakich for fivethirtyeight.com mentions, "The coronavirus almost certainly contributed to the record number of people who voted absentee. As of Monday morning, 1,098,489 absentee ballots had been returned, meaning absentees will probably account for about 80 percent of all votes in this election. That's an unheard-of proportion in Wisconsin, where voting by mail is not very widespread. For example, only 10 percent of Wisconsinites voted absentee in the 2016 presidential primary, and only 27 percent in the 2016 general election." The absentee ballot system was instrumental to a successful election. It allowed voices to be heard without jeopardizing public health.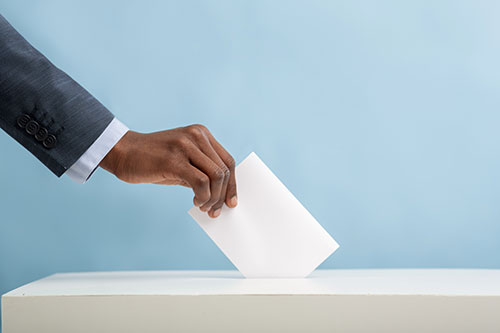 Illinois, Arizona and Florida
Illinois had some difficulty with their elections. Other than the fact that voters were largely unable (or unwilling) to vote in person, lack of physical voting centers led to a decrease in overall participation. An article written for nytimes.com by Nick Corasaniti and Stephanie Saul states, "Voting in major cities in Illinois was rife with confusion and turnout in many areas was significantly lower than expected, leading to complaints from poll workers and clashes between Chicago officials and the statehouse." Unlike Chicago, other states saw an increase in voter participation. The article goes on to say, "Florida and Arizona exceeded turnout levels seen in the 2016 Democratic primary, despite the coronavirus outbreak. Both states had invested heavily in early voting systems, and they encouraged early voting and voting by mail as the outbreak worsened, in order to help reduce crowds at polling places on Primary Day." The heavy push for early voting ultimately paid off for the two states.
Our country has made a huge effort to maintain our democratic processes as we battle a global pandemic. States that have moved forward with elections found that early voting and the encouragement of absentee ballot submissions were the keys to overall success.