Have you watched the news lately? Read a paper or even just scrolled through a social media platform? If you've done any of these things, then you have probably heard at least a little something about something called an "impeachment". There are a lot of people who do not truly understand what this is and how the process works. In this article we will discuss what it means to be impeached and how the process works, we will not be discussing how impeachment is being processed right now.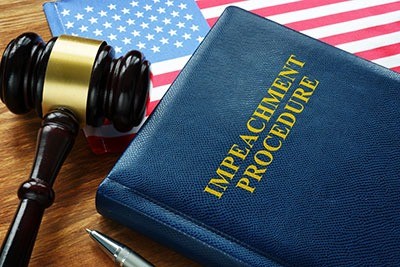 The Process
Impeachment is the process by which a legislative body (typically a lower house) brings charges against a government official. An impeachment is similar to an indictment which breaks down to a statement of charges. The Constitution states that a president can be impeached for "treason, bribery, or other high crimes and misdemeanors." Treason and bribery are well understood, however the Constitution does not define "high crimes and misdemeanors."
Removal
One thing that people misunderstand is that Impeachment does not in itself remove the official definitively from office. Someone can be impeached and remain in office. An example of that would be President Bill Clinton. He was impeached on the grounds of perjury to a grand jury and obstruction of justice. The only other previous president to be the subject of formal House impeachment proceedings was President Nixon.
Up Next
If a president is impeached and removed from office, then the vice president would become the next president. The laws regarding succession were created in 1792. After the vice president it goes down to the Speaker of the House of Representatives then President Pro Tempore of the Senate and then Secretary of State. The list continues down to the last one in succession which is the Secretary of Homeland Security. The current order of succession has not always been this way, in 1886 Congress passed a law that removed the leaders of the Senate and House of Representatives. However, in 1947 the leaders of the Senate and House were restored to the line of succession by the Presidential Succession Act which is still observed to this day.
Special Notes
During the impeachment trial of President Andrew Johnson (1868) but Johnson was found not guilty by one vote. Another noteworthy mark is during the Clinton impeachment, the Republicans controlled House of Representatives during that time and with a bipartisan vote of 258–176 (31 Democrats joined Republicans) to commence impeachment proceedings against Clinton on October 8, 1998. Lastly, one of the most notable impeachment pieces of information is about Nixon. Richard Nixon was close to be being impeached but Nixon resigned from office, before the House took up the resolution.